You barely have to scroll down the Ironman Race calendar to imagine yourself in any of the exotic locations. Patagonia, Thailand, and New Zealand are just a few potential destinations. If leaving our hemisphere is not going to fit into your schedule in 2020, Ironman Puerto Rico is on March 15 and not sold out at the time of writing this blog post.
Competing in a race is time consuming enough so trying to coordinate the logistics of your bike being race-ready and waiting for you at T1 in the Philippines can seem daunting. If you are thinking about adding domestic or international flights to your 2020 race calendar, keep reading. There are a few different logistic scenarios to choose from:
1. Ship your bike to a bike shop close to your destination.  You can pack your bike or we can do it for you. The packed bike is shipped to a shop close to your destination. The shop builds the bike for your race and then packs and ships it back home (or back to your home shop) for you. 
 
- We mark off your fit position with tape AND write it down so whoever builds your bike at your destination can set it up perfectly for you. We provide a cardboard bike box for free but we also offer Scicon Travel Case rentals for a small fee. 
- Once the bike is packed, we can provide you with weights and dimensions to purchase a shipping label or you can have us shop for your best shipping price. We do not collect any profit from the cost of your shipping label. We will compare BikeFlights and other traditional shipping services to get you the best price possible.
- As with any kind of shipment, planning in advance is key. Shipping rates can be reasonable with enough time to ship but putting a bike through the mail gets exorbitantly expensive if you leave it until the last minute. However, it is important to note that if you do happen to forget about bringing your bike to Ironman Dubai with only a few days to spare, we can still get your bike to the race on time. 
- You choose how much you would like your bike shipment insured for and the insurance cost is added to the cost of the shipping label. 

2. Use a race bike concierge service like Tri Bike Transport. If you are competing in an event on the Tri Bike Transport calendar, you can utilize their services. You drop off your completely assembled bike at our shop. The Tri Bike Transport van picks up your bike and simply removes the pedals to fit it into the van. Your bike is flown to your destination, usually without ever leaving the possession of Tri Bike Transport. You get to the race and your bike is waiting for you, perfectly set up, at T1. Afterward, the process is seamlessly reversed. 

-If you are really looking to make things simple for yourself, they will even ship your gear bag (Hint: heavy wetsuits and shoes!) or extra wheels.  
- Wheel bags and gear bags incur and extra fee but depending on their weight, the Tri Bike Trasnport fee is likely less than the cost to ship your gear separately. 
- Because your bike is hardly disassembled, you can be sure it is set up perfectly for you at your race.
- Additional shuttle services are available so you could skip the T1 check in line completely. 

3. Buy or rent a travel case and take your bike on the plane with you. If you are willing to wheel your travel case around the airport and are planning to do more than one destination-race, this option can save a lot of money overtime. All travel cases are not created equally. That is why we have chosen to partner with Scicon to bring our customers excellent quality  (and comparatively lightweight) travel cases. We can pack your bike into a case for you or you can do it yourself. Scicon cases make it simple for just about anyone to pack their bike with minimal disassembly. If you are not planning to do many destination races, we do have Scicon Travel Cases for rent for a small fee. 

- Check with your airline before you book your flight. Each airline has specific rules and pricing regarding bikes. 
- A lightweight hard case weighs 26 pounds. Soft cases weigh less. 
- You are responsible for getting your bike from the airport to your race.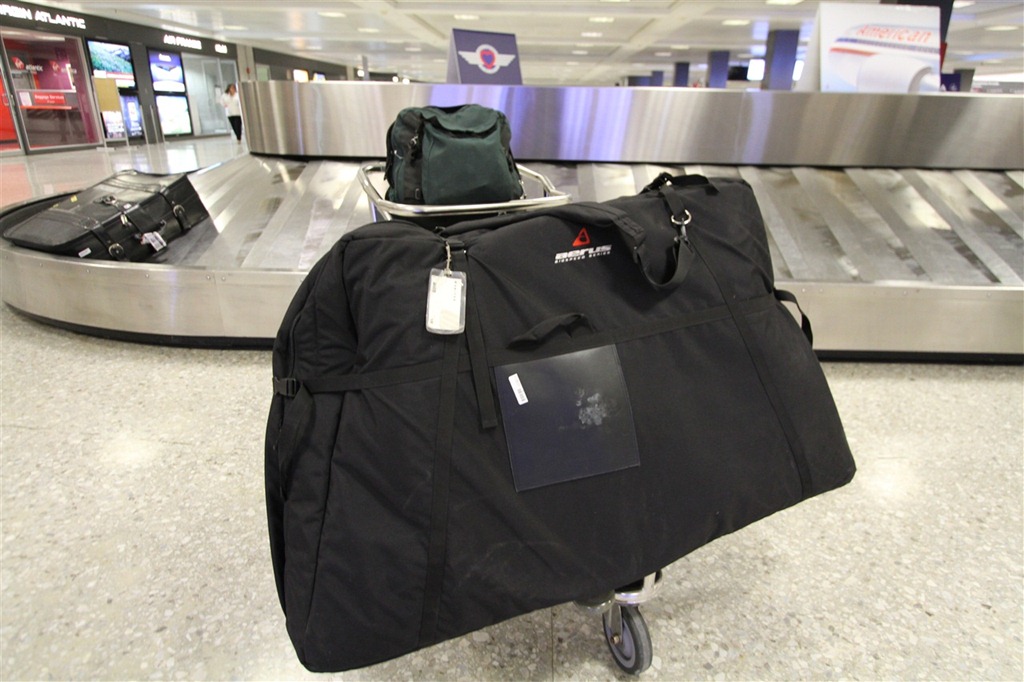 Still have questions about traveling with your bicycle? Give us a call: 610-228-2971 - If you could choose any international race in 2020, where would you go? 
---