TERN
Vektron Q9 (Local Pickup Only, Pre-order 10/22 Arrival)
Regular price
$3,699.00
Save $0.00
/
---
Ride it, Fold it, Go Further
The Vektron is a best-in-class electric bike that folds in 10 seconds to go on trains, in cars, and under desks. Shorten distances and flatten the hills on your commute, or put a couple of Vektrons in the trunk of your car on your next trip, so you can explore further.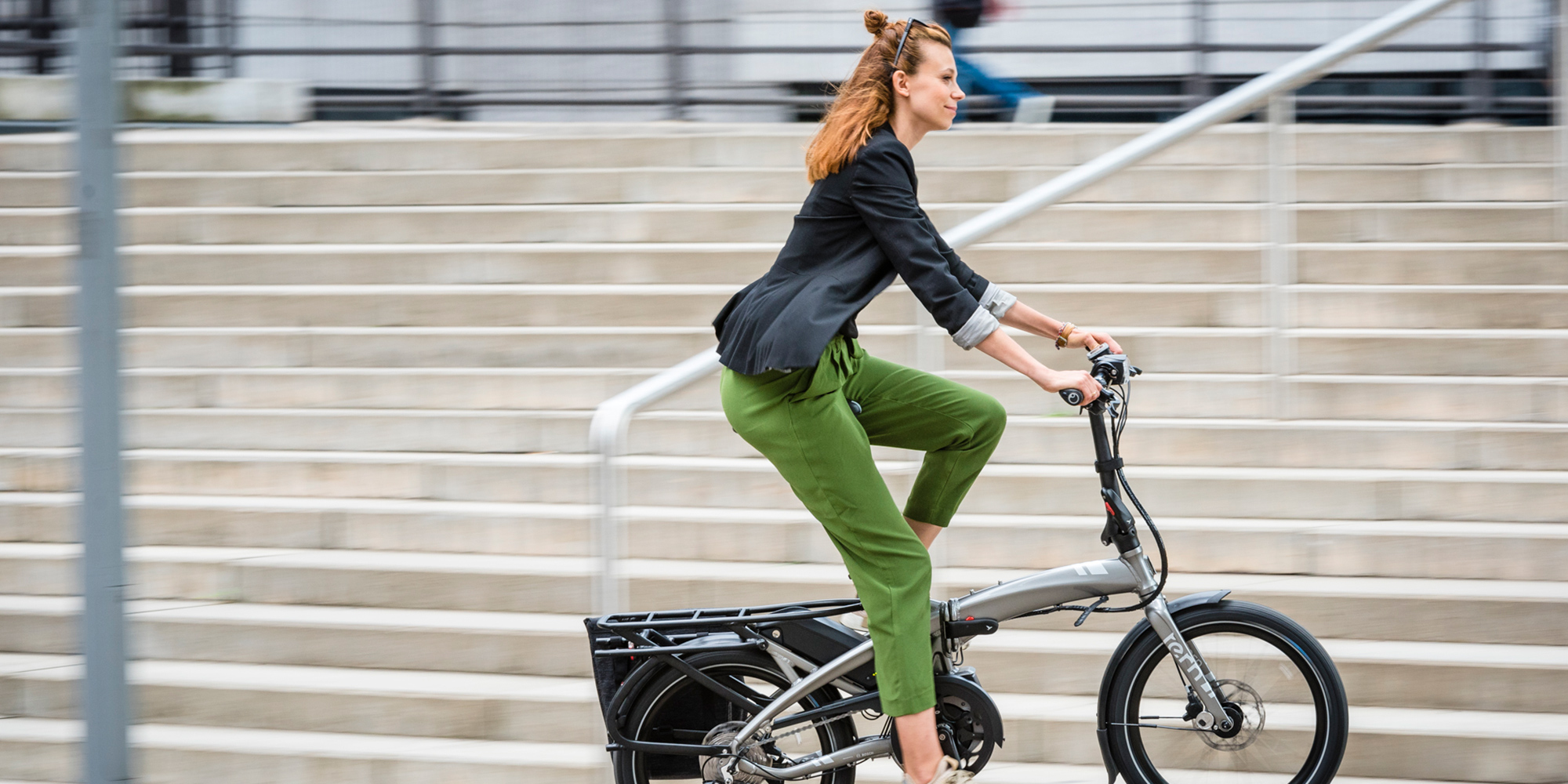 Best in Class
In test after test, the Vektron is called the best folding ebike on the market. With an updated frame, upgraded Bosch motors, and a wide ecosystem of accessories to help you carry your stuff, the Vektron will easily turn a lot of your car trips into bike trips.
Ready to Roll
Once you fold your Vektron, it's easy to roll it around. The new frame design also lets you keep the bike in vertical position when folded, so stopping and going is easier than ever.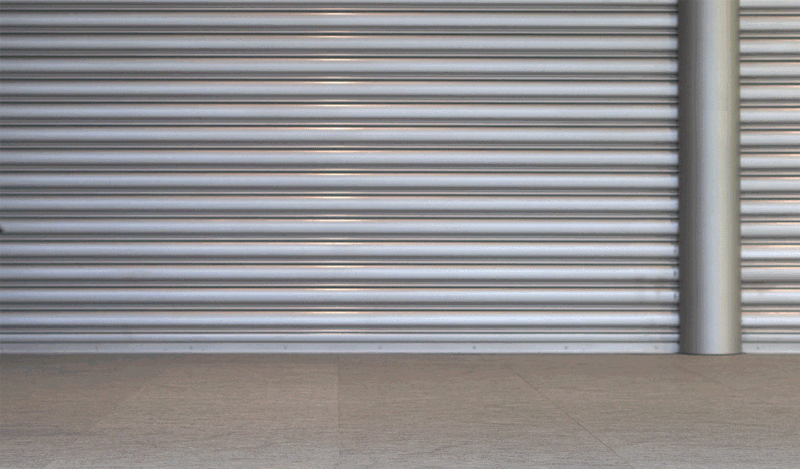 Rides Better
There are other folding electric bikes but none ride better. The Vektron is stiff and stable for a truly solid ride – even when fully loaded. Take a test ride and feel the difference.
It rides like a dream and unlike just about any folding bike I've ever tried.
- Electrek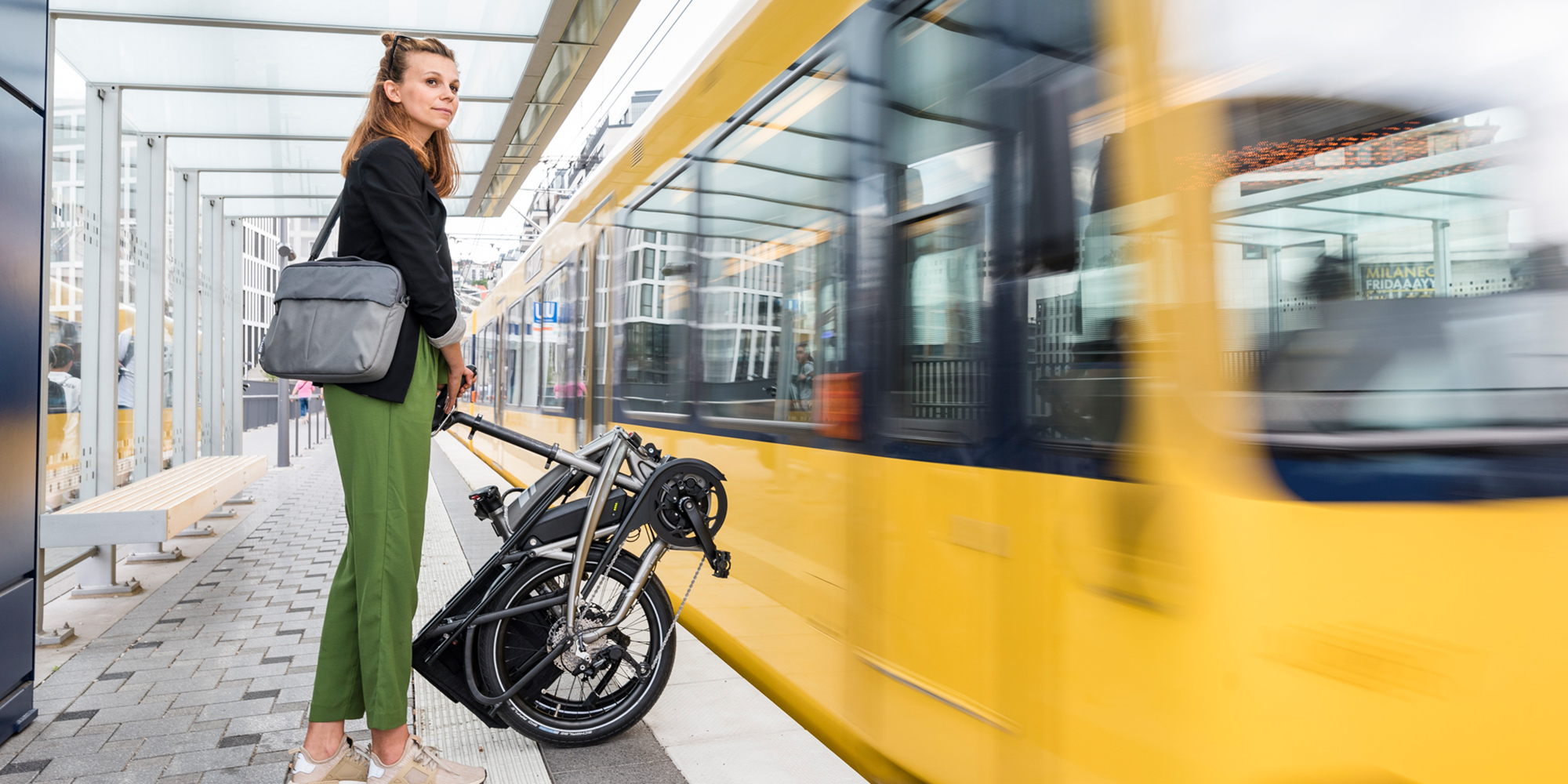 Takes You Further
Take your Vektron on a train or bus to cover those extra-long commutes, or to complete the first and last leg of your commute faster. Ride to the station, hop on, hop off, and keep riding.
One Size Fits Most
The Vektron has a low-step frame design and resizes in seconds—no tools required—to fit riders between 145 and 195 cm (4'10" – 6'5"), so you can share the bike with anyone in your family.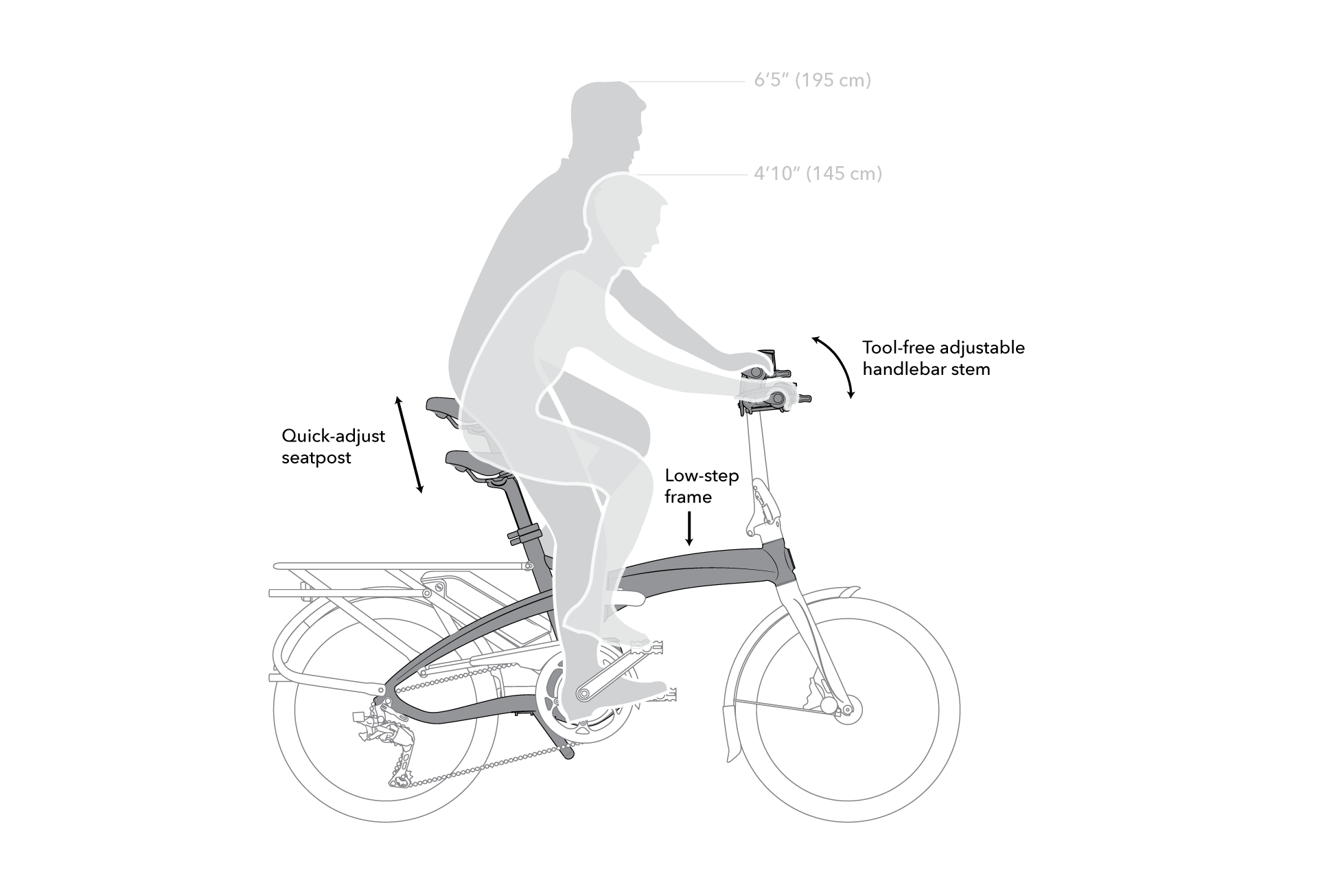 Kiddie Compatible
School runs have never been more fun! The frame-integrated Atlas V Rack is designed to fit a Thule Yepp Maxi or a Nexxt Maxi seat—no adapters needed.
Why the Vektron?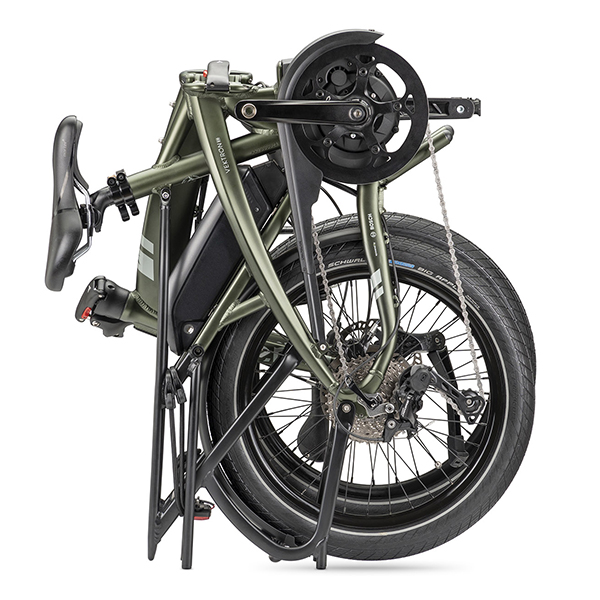 Tern Folding Technology
Our patented Andros Stem, Physis 3D Handlepost, and OCL+ Frame Joint are incredibly strong and stiff, easy-to-use, and serviceable.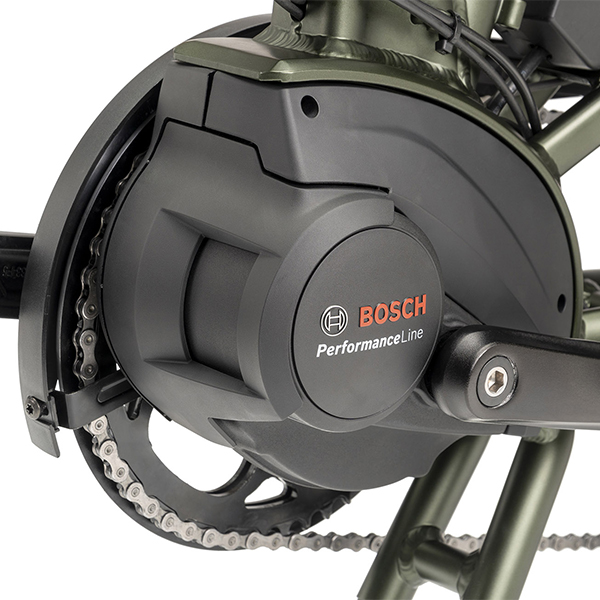 250 Watts of Dependable Power
The Bosch-equipped Vektron can take you up to 25km/h (20 mph in the U.S.), maintaining its excellent performance while delivering a quiet ride with less pedal resistance.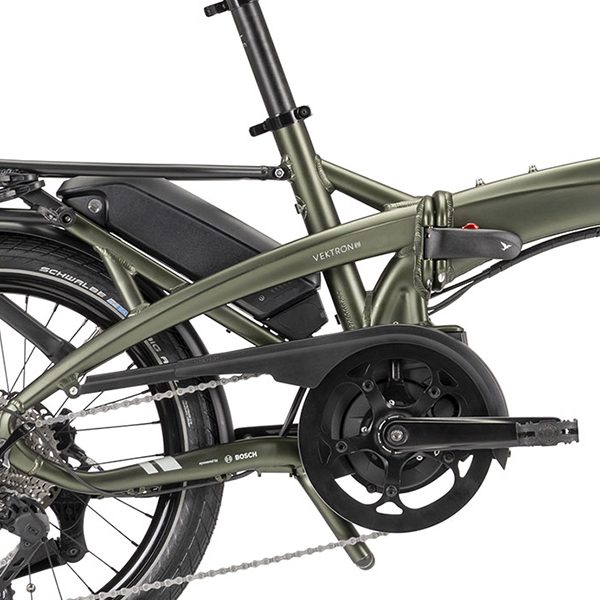 No More Range Anxiety
With a Bosch PowerPack, your Vektron gets a range of up to 130 km. Clip your battery on and lock it for theft protection, or clip it off for easy indoor charging.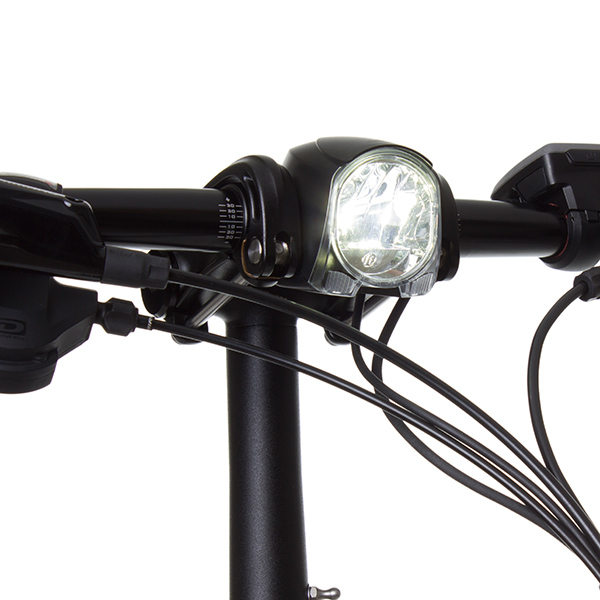 Night-time Safety
The Vektron comes equipped with integrated lights front and rear so you can see and be seen. The lights are wired to your Bosch battery so you'll never have to charge your lights again. Up front the Vektron features the upgraded Valo Direct light with 30% more light output.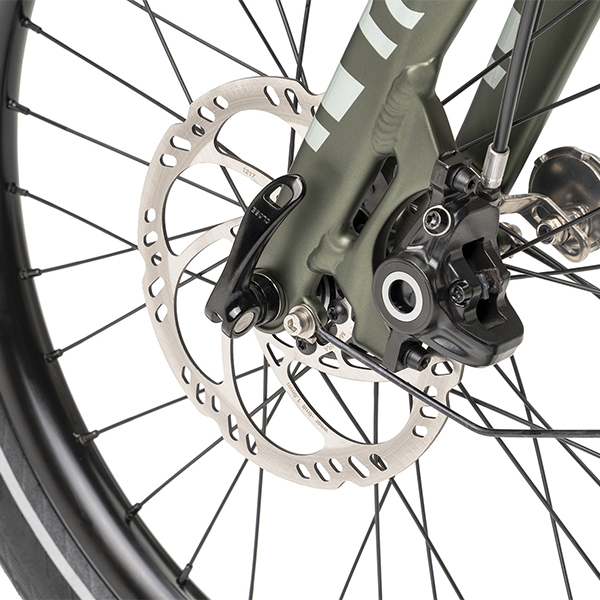 All-Weather Stopping Power
With hydraulic disc brakes, your Vektron is ready for a safer ride, giving you excellent stopping power, and working effortlessly even in rain, snow, or mud. All it takes is the gentle pull of just two fingers.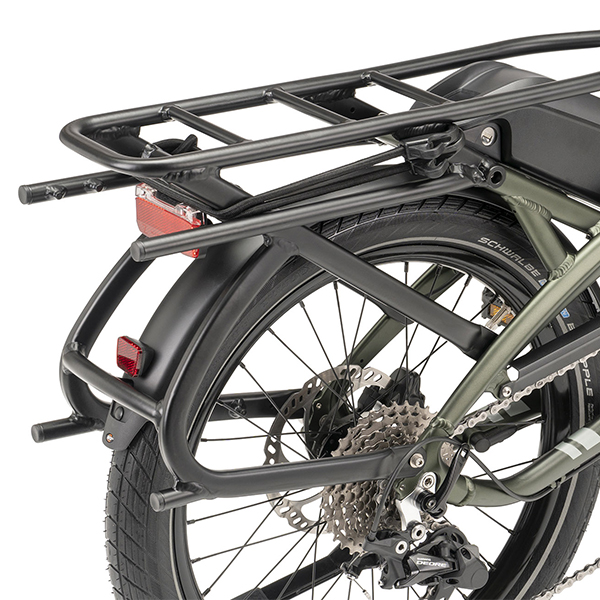 Strong and Stiff Rack
Haul all your bg-gray-700 with ease. With a burly frame-integrated rack that carries up to 27 kg, the Vektron handles well even when loaded. The Atlas V Rack is KLICKfix-compatible, and was designed to work seamlessly with a Thule Yepp Maxi or Nexxt Maxi child seat.
GENERAL INFO
GEAR INCHES:
33" - 97" (2.65 - 7.72 m)
FOLDING SIZE:
41 × 86 × 68 cm (16.1 × 33.9 × 26.8 in)
DISTANCE: SEATPOST TO HANDLEBAR:
62 - 69 cm (24.4 - 27.2 in)
DISTANCE: SADDLE TO PEDAL:
67 - 110 cm (26.4 - 43.3 in)
SUGGESTED RIDER HEIGHT:
147 - 195 cm (57.9 - 76.8 in)
MAX GROSS VEHICLE WEIGHT:
FRAME
FRAME:
Tern Vektron, hydroformed 7005-AL, OCL+ joint, 3 patented technologies
FORK:
Tern Tarsus, 6061-Al, hydroformed
COCKPIT
HANDLEPOST:
Tern Physis 3D, 3D forged, 5 patented technologies, 12°, 320 mm
STEM:
Tern Andros, adjustable, forged construction, patented technology
HEADSET:
Tern Flux, cartridge bearings, Physis integrated
HANDLEBAR:
Flat bar, 6061-AL, Tern Andros adapted
GRIPS/BAR TAPE:
Velo ergonomic, lock-on
SADDLE:
Tern Porter, patented GripPad design
SEATPOST:
Tern Telescope, 34.9/30.9 mm, 2014-AL
SEATPOST CLAMP:
Tern Collar, 6061-AL, 2pc
BRAKES
FRONT BRAKE:
Shimano, hydraulic disc
REAR BRAKE:
Shimano, hydraulic disc
BRAKE LEVERS:
Shimano, hydraulic disc
BRAKE CABLE & HOUSING:
Shimano, hydraulic disc
WHEELS
SPOKES AND NIPPLES:
Stainless steel
RIMS:
Kinetix Comp, for disc
TIRES:
Schwalbe Big Apple, 55-406, puncture protection, Reflex
TRANSMISSION
SHIFTER(S):
Shimano Alivio, 1 x 9 spd, trigger
REAR DERAILLEUR:
Shimano Alivio Shadow
CRANKSET:
Vektron custom, forged 6061-AL crankarm
CASSETTE/FREEWHEEL:
Shimano 11-32T, 9 spd
BOTTOM BRACKET:
Motor integrated
CHAIN:
9 spd, DHT for eBike, GST corrosion resistant coating
SHIFTER CABLE & HOUSING:
Jagwire LEX-SL, slick treatment, alloy ferrules
E-SYSTEM
MOTOR:
Bosch Active Line Plus, 270% Assist, 50 Nm Torque, max speed 25 kph (EU); max speed 20 mph (US)
BATTERY:
Bosch PowerPack 400 Wh
DISPLAY:
Bosch Purion, 4 mode selectable, walk assist
RANGE:
400 Wh: 55 -110 km (35-70 mi)
CHARGER:
220V, 4A (EU); 100-240V, 4A (US)
BELLS & WHISTLES
CHAINGUARD:
SKS Chainblade
KICKSTAND:
URSUS, rear mount
CLIP SYSTEM:
Magnetix 3.0
FRONT LIGHT:
Tern Valo Direct, 190 lumens
REAR LIGHT:
Herrmans H-Trace, for eBike
FENDERS:
SplashGuard, stainless hardware
RACK(S):
Atlas V Rack, integrated 8 point mounting, max load capacity 27 kg (59 lb)
SIMPLE
0% INTEREST FOR SIX MONTHS
We offer financing on all purchases over $350 made with your MECHANIC/bicycle pro shop credit card. Instant approval allows to buy what you really want. 
APPLY IN STORE
We offer ENVE SES Wheelsets, Open Cycle Builds, and TERN E-Cargo Bike Demos. Demos are using the bike in the way it was intended, more than a couple of laps on a side street. Take an Open U.P. to The Wiss, run a lightweight carbon ENVE wheelset for an important race, or see what it's like to grocery shop and school run on an e-cargo bike. All demo fees are applied directly to your purchase. Message us to get your demo started.