The Core Line by State Bicycle Co. was named as one of Bicycling.com's greatest bikes ever made, and we're not surprised. This is the perfect starter bike to get you in the saddle with limitless potential before you. It can be ridden as a practical single speed commuter and fitted with racks and fenders or converted into a fixed gear city bike.
Click Here to Read The Review on Bicycling.com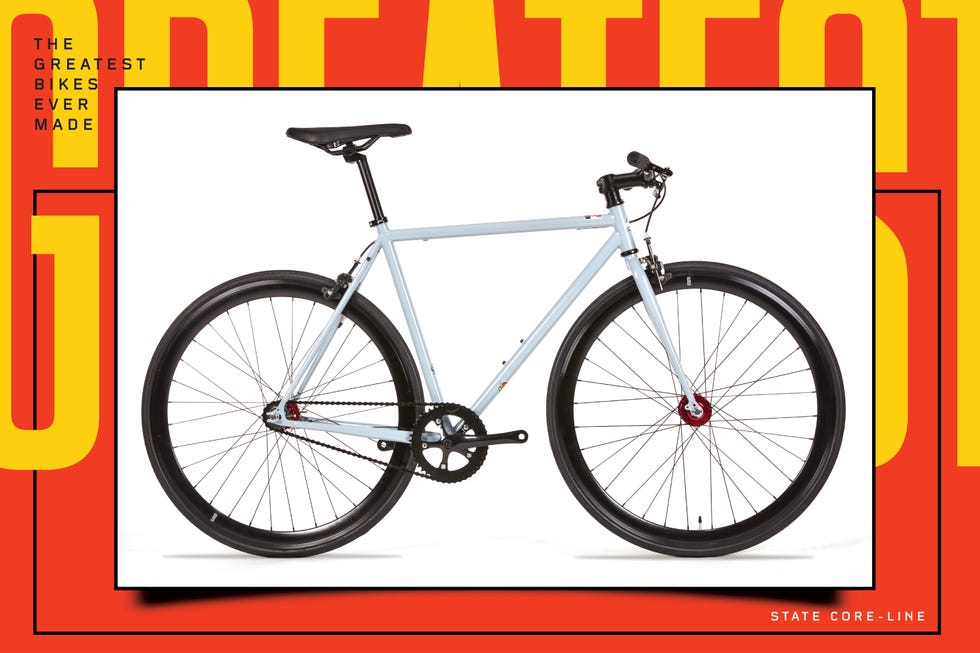 | | |
| --- | --- |
| XS | 5'0-5'4" |
| S | 5'4"-5'7" |
| M | 5'7"-5'11" |
| L | 5'11"-6'2" |
FRAME:

Durable Steel Frame ft. Seat Stay Rack Mounts and Cable Stops

DROPOUTS:

Horizontal Dropouts ft. Integrated Chain-Tensioners

WHEEL SET:

Deep V Wheel Set ft. 40 mm High-Flange Hubs w/ Sealed Bearings

FLIP-FLOP HUB:

 Includes 16T Freewheel and Fixed Gear Cog - Easily Ride Fixed Gear or Single Speed

GEAR RATIO:

44x16

HANDLEBARS:

 

Riser Bars w/ Vans Grips, Upgrade to Drop Bar 

BRAKES:

Front & Rear Caliper Hand Brakes

PEDALS:

 Platform Pedals

SADDLE:

Synthetic Leather Saddle w/ Steel Rails
Repairs: Contactless repair appointments are available. Contact us to schedule your repair. 
Online Orders: All of the bicycle goods and accessories we sell are available to purchase online. Don't see what you are looking for? Contact us for a prompt reply. Special Orders are also available from all of our brands. Purchases made online are available for contactless pickup at our shop. You will receive an e-mail confirmation that we received your order and we will contact you for pickup once it is fulfilled. 
SIMPLE
0% INTEREST FOR SIX MONTHS
We offer financing on all purchases over $350 made with your MECHANIC/bicycle pro shop credit card. Instant approval allows to buy what you really want. 
APPLY IN STORE
We offer ENVE SES Wheelsets, Open Cycle Builds, and TERN E-Cargo Bike Demos. Demos are using the bike in the way it was intended, more than a couple of laps on a side street. Take an Open U.P. to The Wiss, run a lightweight carbon ENVE wheelset for an important race, or see what it's like to grocery shop and school run on an e-cargo bike. All demo fees are applied directly to your purchase. Message us to get your demo started.